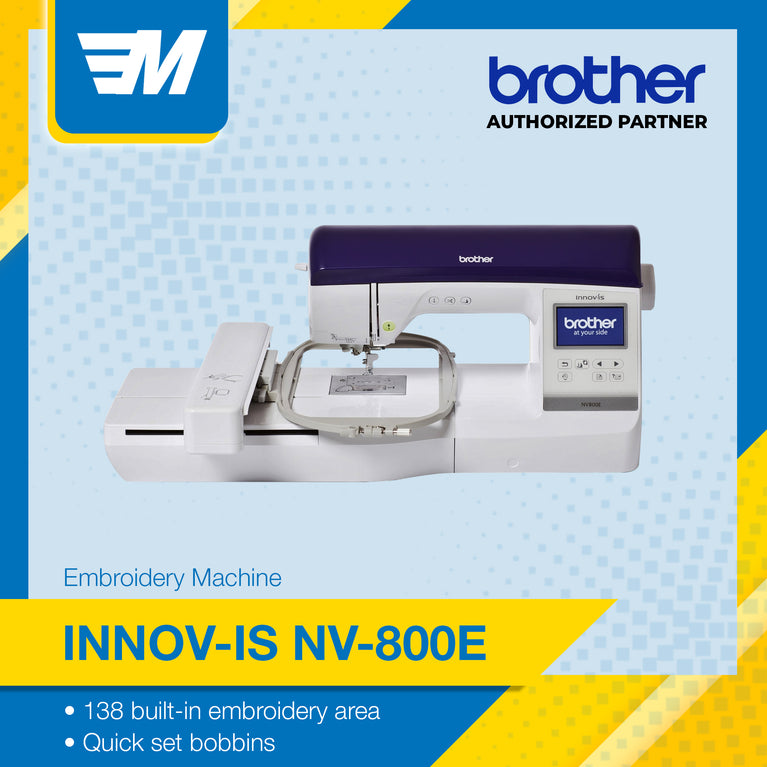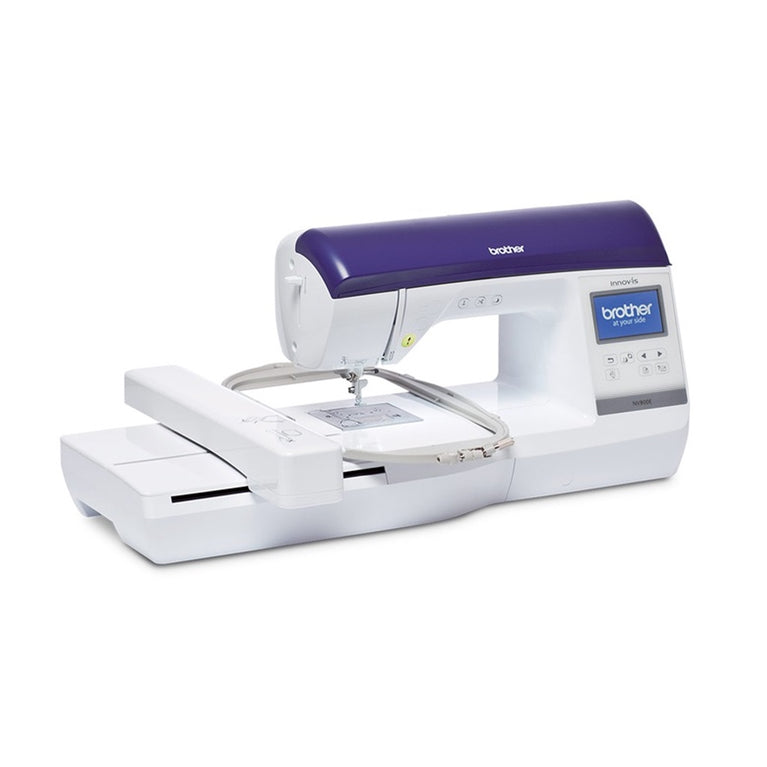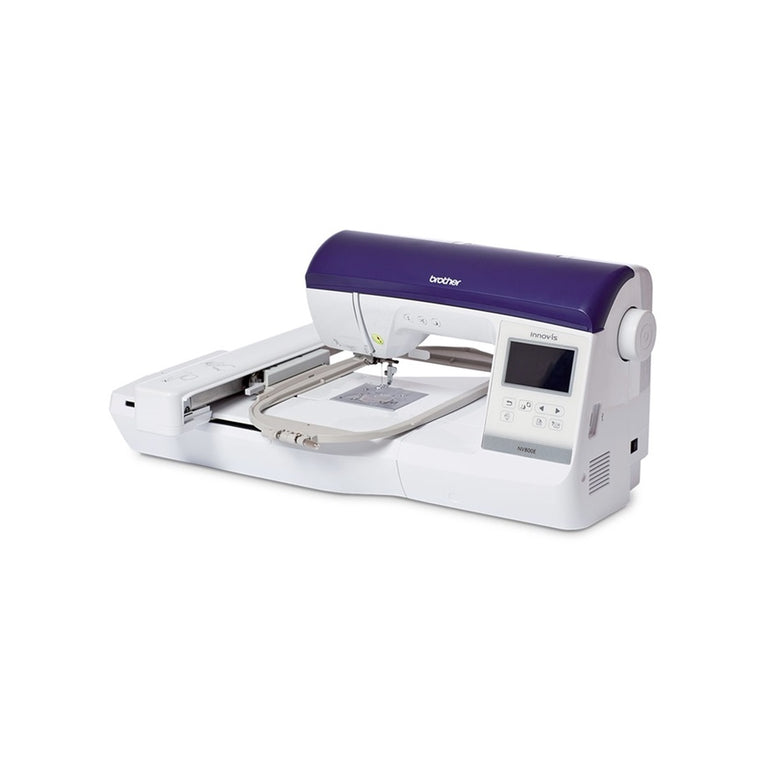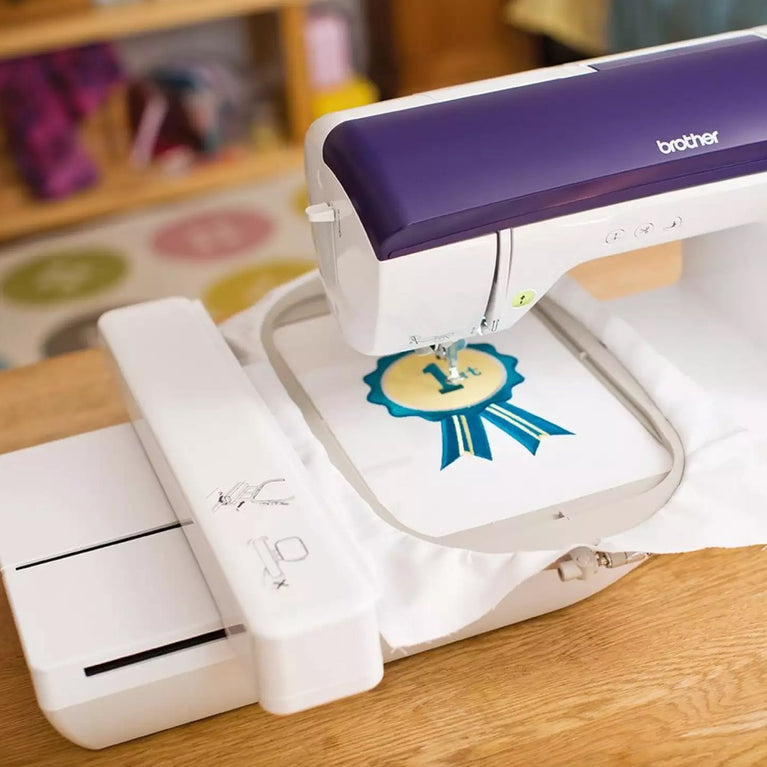 Full-featured embroidery machine with large embroidery area.
Features
• Automatic Needle Threader
• Quick Set Bobbin
• Full Colour Touch Screen Control
Large embroidery projects in a short time
Add a full-featured embroidery-only machine to your existing sewing machine and tackle large projects in a short time.
If you've been thinking about adding an embroidery-only machine to your existing sewing machine, you should consider the Innov-is NV800E. It gives you a large embroidery area and a wide inner-arm space for large projects. The Innov-is NV800E is also super-fast and you'll enjoy a full-colour touch screen.
Key features
Manage all the functions on the full-colour touch screen display and the touch sensor keypad.
Editing features include layout, combine patterns, pattern rotation, size, mirror imaging and more.
Preview your designs in full colour with zoom view to see every detail of the design.
Select from 18 built-in languages.
Large 160mm x 260mm embroidery area gives you the space for large intricate designs.
850 stitches per minute embroidery speed for fast and accurate embroidery.
Automatic embroidery pattern suggestion. Select the required frame size and the Innov-is NV800E will highlight only the available patterns that will fit the selected frame.
Automatically adjusts thread tension.
The Innov-is NV800E has upper and lower thread sensors that warn when thread is broken or has run out.
Features and functions
Built-in embroidery designs
138 built-in embroidery designs including floral, seasonal, animals and much more.
Frame shapes
10 frame shapes and 14 border styles to allow those extra finishing touches to your embroidery.
Embroidery design created with PE-Design
11 built-in font styles
Add a personal touch to your projects with a wide variety of built-in fonts. Ideal for monograms, names, sentiments, etc.
Fast-font editing
Easily edit the text to suit your project. Designs can be arrayed; size, space and font can all be adjusted for each letter to give complete control.
Automatic needle threader
Simply follow the thread guide, lower the lever and the needle is threaded for you.
USB port
Connect a USB device such as a memory stick or a card reader/writer and load your embroidery design directly to the machine.
Bring colour and style to life
With the Innov-is NV800E, if you can dream it, you can design it – very fast. Add colour and style to everyday items, such as cushions, quilts and lampshades. Explore your inner artist.
How about animal-print embroidery? With the Innov-is NV800E, you can transform a dull, single-coloured fabric with an embroidered, built-in animal design. Choose from zebra or leopard. Floral and seasonal patterns are also possible.
Basic Specs
BOBBIN TYPE
Horizontal
NEEDLE THREADER
Yes
THREAD CUTTER
Yes
SEWING LIGHT
LED
START STOP BUTTON
Yes
THREAD TENSION CONTROL
Auto
QUICK-SET BOBBIN
Yes
F.A.S.T BOBBIN WINDING SYSTEM
Yes
TOUCH PANEL LCD
Yes
LCD DISPLAY SCREEN
Color LCD