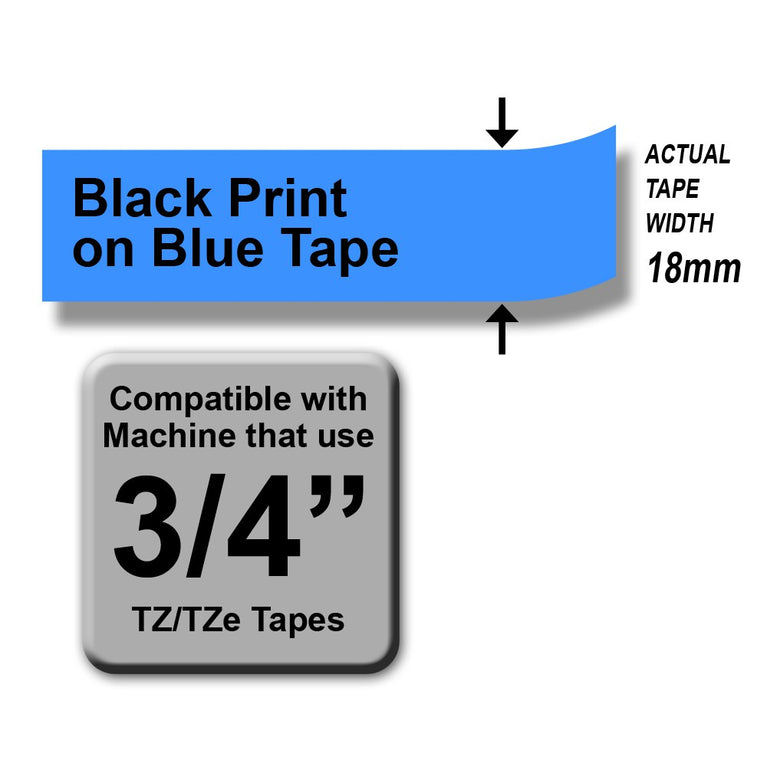 - 18mm wide, 8m long
- Laminated tapes
- High quality genuine Brother cassette
- Ensure durable, easily readable results
- No sticky residue when removed
- Environmentally friendly packaging
OVERVIEW
This labelling tape has been rigorously tested by Brother to be as durable and dependable as possible.
By choosing genuine Brother TZe labelling tape, you'll ensure that your machine continues to work at its best, providing you with results that are clear, legible and designed to last.
These genuine self-adhesive laminated labels have been developed to withstand extremes of temperatures, and are resistant to chemicals, abrasion, sunlight and submersion in water, making them suitable for both indoor and outdoor use.
TZe tape cassettes are quick and easy to install, and come in various label widths, colours and materials - ensuring your P-touch machine meets all your labelling needs.
The Brother Ptouch label can be used in the following Brother label printers:
PT-1300, PT-1400, PT-1500, PT-1500PC, PT-1600, PT-1700, PT-170K, PT-1750, PT-1800, PT-1810, PT-1830, PT-1830C, PT-1830SC, PT-1830VP, PT-1880C, PT-1880SC, PT-1880W, PT-1890C, PT-1890SC, PT-1890W, PT-18R, PT-18RKT, PT-1900, PT-1910, PT-1950, PT-1960, PT-2030, PT-2030AD, PT-2030VP, PT-2100, PT-2110, PT-2200, PT-2210, PT-2300, PT-2310, PT-2400, PT-2410, PT-2430PC, PT-2500PC, PT-2600, PT-2610, PT-2700, PT-2710, PT-2730, PT-2730VP, PT-300, PT-300B, PT-310, PT-310B, PT-320, PT-330, PT-340, PT-350, PT-3600, PT-4000, PT-520, PT-530, PT-540, PT-550, PT-580C, PT-7500, PT-7600, PT-9200DX, PT-9200PC, PT-9400, PT-9500PC, PT-9600, PT-9700PC, PT-9800PCN, PT-D400, PT-D400AD, PT-D400VP, PT-D450, PT-D600, PT-D600VP, PT-D800W, PT-E300, PT-E500, PT-E550W, PT-E800W, PT-H300, PT-H300LI, PT-H500LI, PT-P700, PT-P750W, PT-P750WVP, PT-P900, PT-P900W, PT-P950NW, ST-1150, ST-1150DX, ST-5