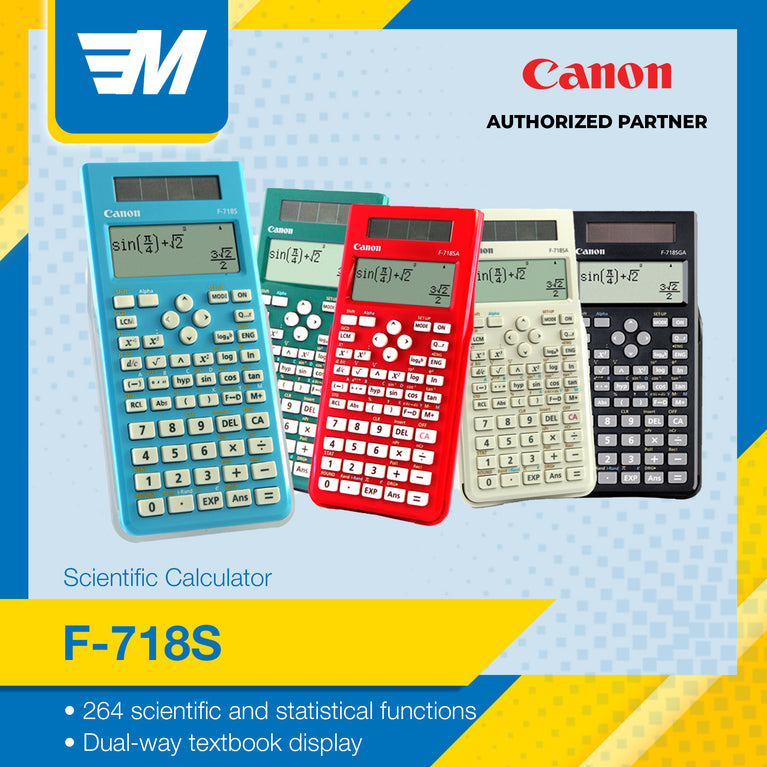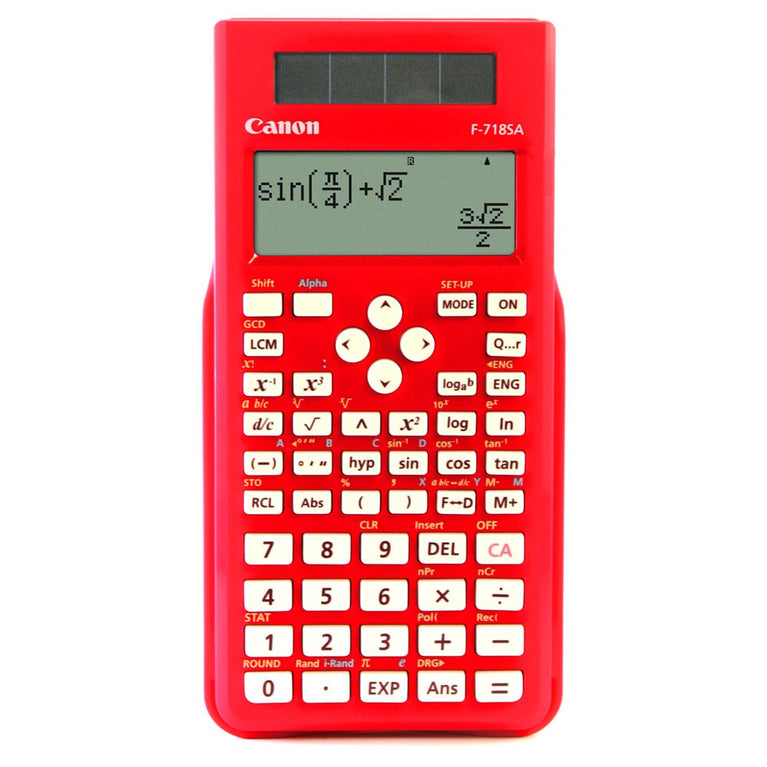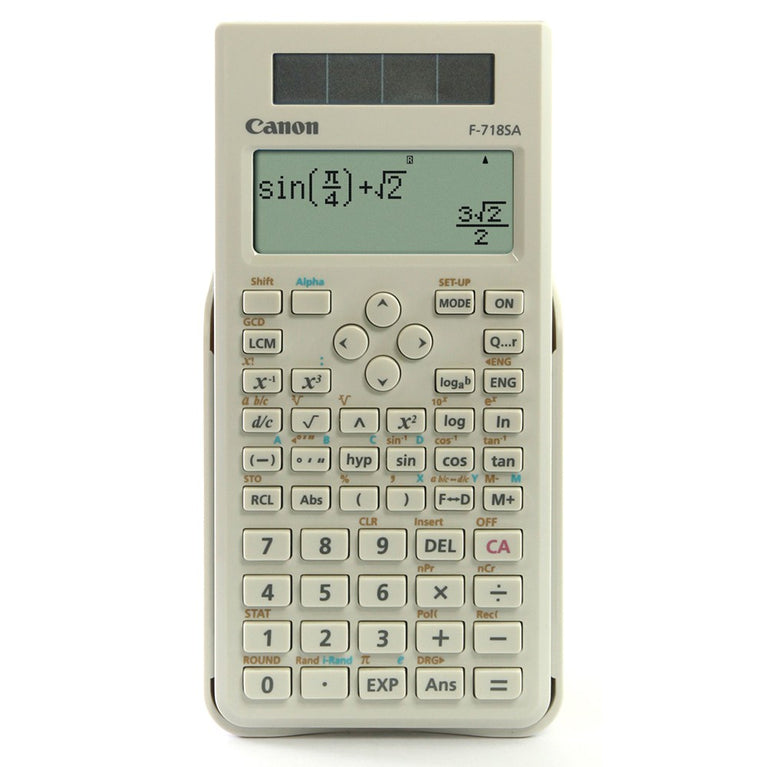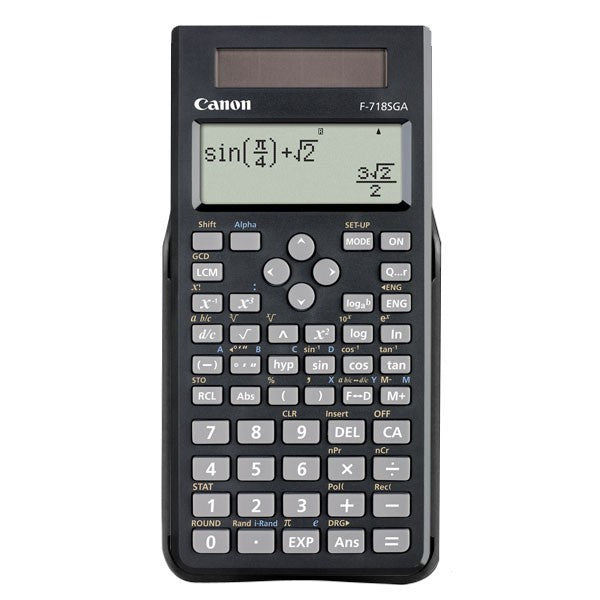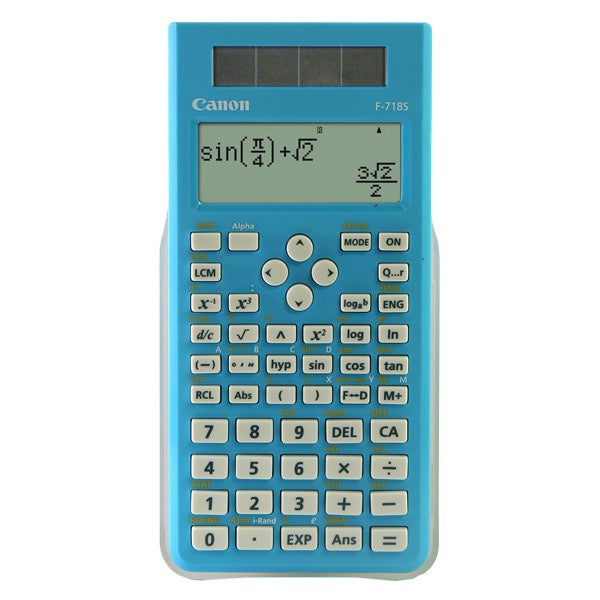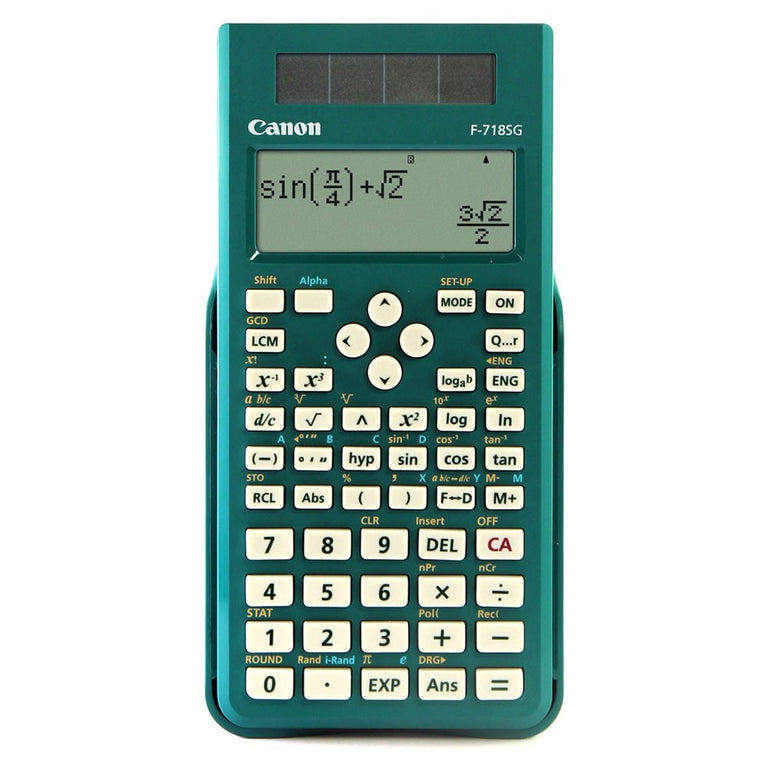 F-718S
Textbook display scientific calculator with vivid colors
This dot-matrix display, anti-bacterial Scientific calculator offers students a hygienic and highly accurate calculating capability. Manufactured using recycled Canon material, it's clean and green.

̉• 264 scientific and statistical functions
• 17 store and recall memories
• Dual-way textbook display (mathematic and line mode)

Dual-way Textbook Display
Featuring two types of input and display formats ('Mathematic' & 'Line' mode) for easy scientific operations. With the advanced dot matrix textbook display, all inputs and calculations are shown in the common hand-writing style. This makes complex operations user-friendlier than before.
Extensive Functions
The F-718S series is your dependable partner whilst attending secondary school with powerful 264 scientific functions and features included. Enhanced functions includes statistics calculation, trigonometry calculation and table function. Other value-added functions includes but not limited to Logab calculation, LCD & GCD calculation in which users can get Least Common Multiple or Greatest Common Divisor from a maximum of 3 positive integers. Canon brings you simple solution to complex problems.
Eco-friendly
In pursuance of the commitment to reduce avoidable energy waste, Canon is devoted in manufacturing our green calculators to the highest standards. Parts of our green calculators are made from recycled Canon product materials. We're delighted in ensuring sustainability and preserving the environment.

Display
 
Display Type
Liquid Crystal Display
Line of Display
Dual-way Display (Line or Maths mode)
Display Screen Size
86 x 21mm
Functionality
 
General Calculation
Yes
Total Functions
264
Store & Recall Memory
17
Internal Calculation
Up to 18-digit
Random Number
Yes
Least Common Multiple (LCM)
Yes
Greatest Common Divisor (GCD)
Yes
Quotient & remainder Calculation (Q...r)
Yes
Absolute Value Calculation (Abs)
Yes
Multi-statement Calculation
Yes
Improper, Mix Fractions, Decimal conversion
Yes
Trigonometry, Inverse Trigonometry
Yes
Angles (Degree, Radian, Gradient)
Yes
Coordination Conversion (Rectangular <-> Polar)
Yes
Low Battery Indication
Yes
Automatic Power Off
Yes (7mins.)
General
 
Power Source
Dual Power (Solar & Battery)
Dimensions (L x W x H)
171 x 86 x 18.75mm (with Cover)
168 x 80 x 14.5mm (without Cover)
Weight
128g (with Hard Case)
Other Features
1. Anti-bacteria body casing
2. Some parts are manufactured from recycle Canon product material